ICCX Central Europe is ready to welcome again exhibitors and visitors from all over the world on the occasion of the most important event dedicated to concrete. As usually, the appointment is in Warsaw this year from 14 to 15 June. MEC will be present among the exhibiting companies to show you the best performing solutions for splitting and cutting concrete.
Are you curious to know some more details about the event? Then you just have to keep reading the article!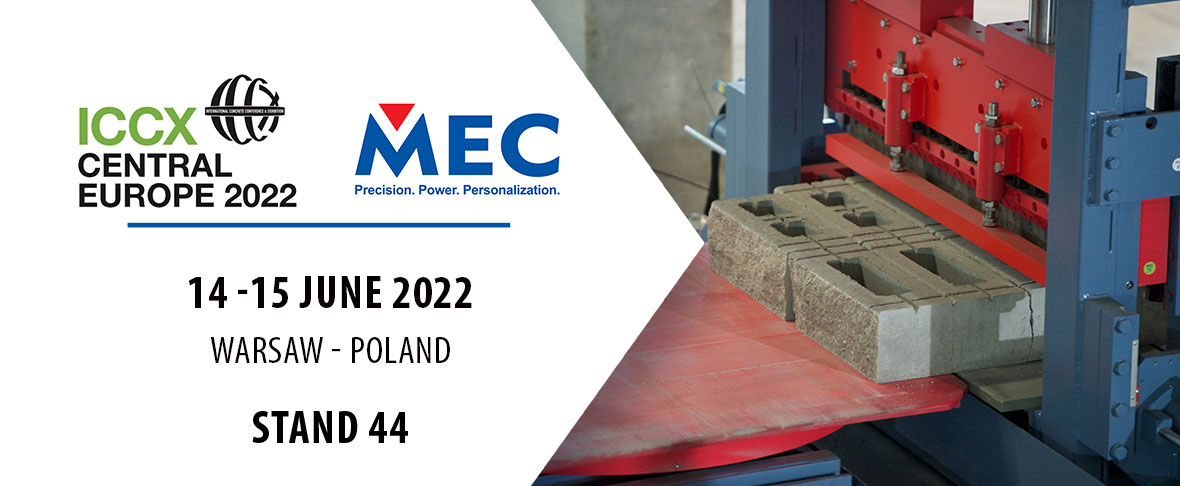 After a forced break caused by the Coronavirus pandemic, ICCX Central Europe opens its doors again and already promises to be the richest edition ever.
Also, this year all the conferences scheduled (as well as the exhibition) will be held at the Conference Hotel DoubleTree by Hilton Hotel & Conference, located right in the heart of Warsaw. A perfect location for a technical event of this caliber.
On 14 and 15 June, we start again in a big way! ICCX is the most important annual gathering for the cement and concrete industry. It is an unmissable event for many companies in the branch. Going beyond the borders of Poland – what has always been the home of ICCX – the event includes two days full of conferences, workshop, and presentations held by leading international experts in the branch.
ICCX 2022 is increasingly an international event. The commercial exhibition offers all visitors the opportunity to interact within a high-level exhibition space. In total, 100 stands will be present at ICCX 2022. Relevant networking opportunities are, therefore, guaranteed to all participants.
The two-day program is divided into four different thematic areas. We will discuss multiple and heterogeneous topics related to the cement, concrete, and precast industry, with particular focus on the future challenges of the industry, especially in Central Europe.
The MEC team is waiting for you at ICCX 2022, at Stand 44, to tell you the details about how our machines for cutting and splitting concrete work. Would you like a small preview of the solutions presented during the two days of the fair?
MEC dedicates three ranges of products to splitting concrete:
Our commercial director will be happy to show you the solutions for cutting concrete:
The recovery of concrete waste is equally important. For this reason, MEC also offers crushing lines.
Are you looking forward to participating in ICCX 2022? We too! See you in Warsaw on June 14th and 15th. You can find us at Stand 44. In the meantime, if you have any questions or curiosities, do not hesitate to contact us!
ICCX 2022: a new edition of the event dedicated to concrete!