The eighth edition of the ICCX (International Concrete Conference & Exhibition) exhibition-congresses is almost upon us, and MEC is ready to participate. If you have already experienced the Live Days in March, you will be able to attend the Junepresentations again during an even larger exhibition. We will be happy to introduce you to our solutions for cutting and processing concrete. Check out more details about it!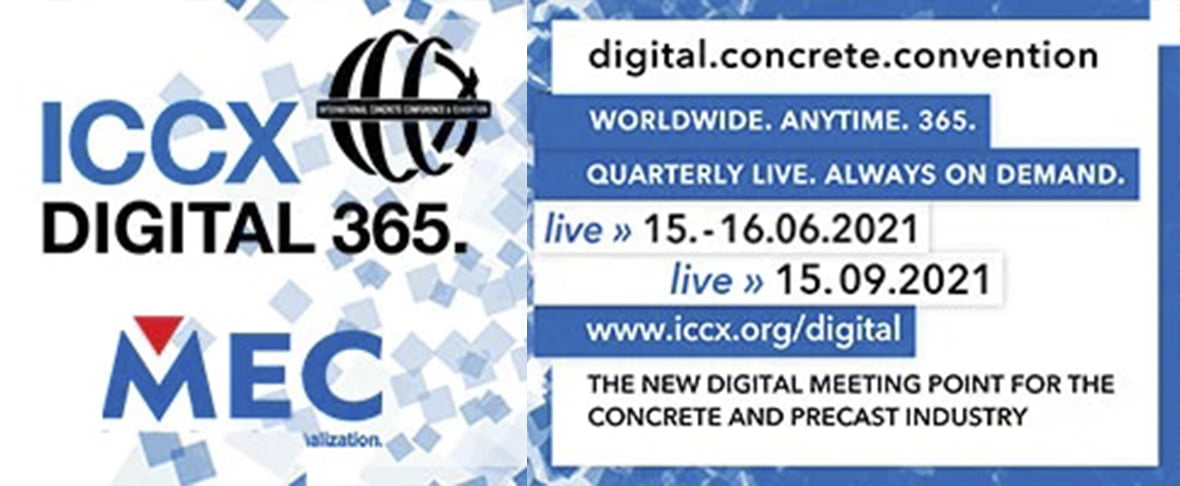 The ICCX concept is transformed into a digital event ready to host exhibition stands 365 days a year and from anywhere. The objective of the ICCX digital 365 interactive platform is certainly not to replace physical events but to increase the opportunities for participating companies to interact with other players in the branch during the dedicated days. During the latter, speeches and presentations are held on topical issuesfor the concrete and prefabrication industry.
The Live Days will allow companies and professionals in the sector to meet in a digital space. ICCX digital 365 organizes live and on-demand presentations in a winning combination of reality and virtual universe. All days are dedicated to the meeting between the biggest machinery manufacturing companies within the concrete industry.
As digital events continue taking place instead of the physical conferences, ICCX digital 365's need is to add new opportunities to those events.
The ICCX digital 365 program includes a path full of conferences, the participation of new exhibitors, and many other features. ICCX digital 365 is the only international digital fair dedicated to the concrete industry, and year after year, the relevance and interest in the event continue to grow.
But who will participate, and which topics will they touch? The actors taking part in the conferences are all leading figures in the industry. The current trends and prospectsof the branch will be the topics of discussion during the meeting days.
The MEC team will not miss this year either: we are ready to participate in the Live Days scheduled for 15 and 16 June to show the public the functionality of MEC machines.
We are waiting for you in Hall 5!
If you are interested in learning about our innovative and customized MEC solutions for cutting and processing concrete, we invite you to participate in ICCX digital 365!
To prepare for the event, visit the tutorial area on the website www.iccx.digital/tutorials. We are waiting for you!
ICCX digital 365 2021 – 8th edition online