In order to generate the production capacity of a splitting line for stone or concrete, in addition to the precision of the machines and the efficiency of the handling systems, there is also the method of loading and unloading the blocks to be processed and/or palletizing the finished products.
Mec, therefore, offers a range of palletizing solutions to be applied to automatic splitting systems for both stone and concrete splitting.
These systems are ideal for the loading phase of stone strips or concrete pieces and also for the unloading and automatic composition of pallets with finished products: such as cobbles, curbs, wall stones, split concrete products.
The range of Mec palletizing products consists of
CARTESIAN MANIPULATORS
ANTHROPOMORPHIC ROBOTS
Manipulators move according to the three servo-controlled Cartesian axes X, Y, and Z. They use mainly hydraulically operated grippers or a suction cup panel to pick up and lift strips or a set of finished products.
Ideal for grouping and lifting multiple finished products together, thus reducing the number of movements required to compose the various layers of pallets.
The start and stop actions of the manipulators are carried out in a progressive way to avoid any jolts or vibrations.
Their structure allows using them also in other production processes located next to the splitting line.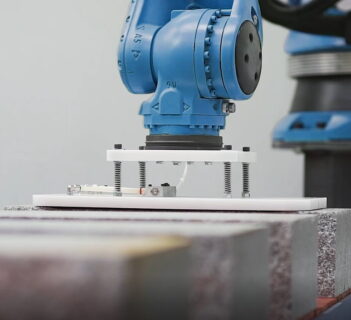 These are real robots with medium and high loading capacities. They are perfect for palletizing operations in restricted areas.
Mec palletizers are fast and accurate, ideal for demanding stacking tasks, capable of loading up to a complete layer of finished products at a time.
Their compactness allows for easy integration into existing systems.
The final part of the robot arm is custom designed and built according to the operation requirements.
Macchina scapezzatrice con una testa, per scapezzare/sbucciare piastre segate o resti di segagione, valorizzandoli. La macchina può essere dotata di nastro in uscita per agevolare le operazione di riposizionamento del pezzo per il secondo passaggio.